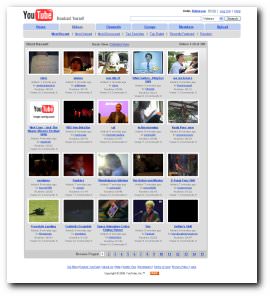 TheAge.co.uk in How YouTube became hot property in online video:
As April began, Hurley said people were posting about 35,000 new videos daily at YouTube.com, luring even more viewers to an audience that's already watching more than 35 million videos per day, most lasting 30 seconds to 2 1/2 minutes. Just four months ago, YouTube's visitors were posting about 8000 videos a day while viewers were seeing 3 million videos daily. The growth has been infectious, depending largely on referrals from users who alert their friends and family to a favorite video. Many of the viewers who discovered the site then decided to share their own videos, a factor that continually deepens YouTube's pool of content. YouTube's success also is being propelled by a steady increase in high-speed internet connections at home, making the distribution and consumption of online video more practical… In February, YouTube's 9 million US visitors viewed 176 million pages, compared with 38 million pages at Microsoft's MSN Video and 76 million at Google Video.
Und interessant deren Weg, mit der Urheberproblematik umzugehen:
YouTube hasn't been sued yet and so far Hollywood studios have described the company as a "good corporate citizen". Hurley and Chen hope to work more closely with copyright holders to convince them they can stimulate interest by sharing snippets online. Indeed, some movie studios now post clips as part of marketing campaigns.
Die große Frage wir wohl darin bestehen, wie YouTube seine Dienste finanzieren möchte. Durch Premium-Accounts? Abgestuft uU? Durch Werbegelder? Werden Filmproduzenten und Musikgruppen für die Platzierung von Videos bezahlen? Wird YouTube wie Google Video einen Bereich für paid Videos einrichten und entsprechend prozentual an den Umsätzen beteiligt? Oder wird AEG zuschlagen und einer der Dickschiffe YouTube gegen eine hübsche Kaufsumme verspeisen?
via digg.com