auf 330 Seiten (ufffz) kann man alles über die technische Mediennutzung der User erfahren, die Studie wurden von Ofcom erstellt, die britische Medien-Regulierungsbehörde: The Communications Market 2007 (August)
Auszug, Key Findings:
# Convergence has opened up major revenue opportunities for the producers of many content types. Over the first half of 2007 90% of UK singles sales by volume came from digital downloads to the computer or a mobile handset. The market for computer game playing has also been transformed, with millions of consumers worldwide now engaging in shared online gaming experiences.
# Audiovisual content, by contrast, continues to be largely broadcaster-funded, although independent producer revenue from new media rights more than doubled to £42m in 2006.
# The traditional advertiser-funded model of broadcast audiovisual output faces pressures both from the growing popularity of online advertising (it rose by nearly half in 2006 to £2bn) and from the multichannels (which attracted advertising revenue of over £1bn in 2006).
# The terrestrial broadcasters have in turn embraced the internet as a new distribution platform with Channel 4, ITV and the BBC all launching internet-based on-demand and/or live access to their content.
# Increasingly sophisticated devices are beginning to influence consumer behaviour. Fifteen percent of individuals now have a digital video recorder (DVR) and up to 78% of adults who own them say they always, or almost always, fast-forward through the adverts when watching recorded programmes.
Gerade der in den USA unter "Tivo" bekannt gewordene Bereich der Digitalen Rekorder scheint also auch in England den Werbern das Fürchten zu lehren:
In common with other digital devices, falling prices helped to drive take-up of DVRs during 2006. The one-off average cost of a Freeview DVR more than halved from £323 in Q2 2003 to £137 in Q1 2007. By Christmas 2006 Aldi were offering a DTT DVR for under £100. BSkyB and Virgin Media have also taken steps towards changing the revenue model of their DVR services to widen their popularity. Sky cancelled the Sky+ £10 per month subscription fee in early 2007, while V+ is available free of charge to subscribers to Virgin's top tier.

The technology behind DVRs has also become more sophisticated. In 2006 Sky introduced a service whereby subscribers can programme their Sky+ box from their mobile or online; in 2007 they launched Sky Anytime, which stores a selection of Sky programmes on a DVR for seven days; these can be saved to the hard disk if desired. Sky Anytime follows in the footsteps of Top Up TV Anytime, which provides overnight downloads of TV programmes from key subscription TV channels, and on-demand access to 30 films a month supplied by Universal under the Picture Box brand.

These 'anytime' services show how the satellite and DTT platforms are competing with the full on-demand service offered by cable – these 'push' services together with the decreasing cost of local storage are enabling these networks to offer near-video-on-demand services, which may become quicker as broadband services improve.
so ergibt sich auch Dank der Preissenkungen folgendes Bild bei den DVRs: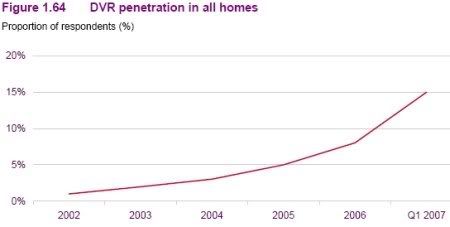 via PR Blogger